Pam's December birthdate has just passed, but in November her friend Anna surprised her with a birthday party at the Leaskdale National Historic Site.  Anna decorated the Historic Church with peacock feathers and peacock-blue table centrepieces, adorned with Anne of Green Gables quote cards.  Pam was treated to a personal tour of the Manse and her special day ended, fittingly, with an animated reading from a chapter of Anne.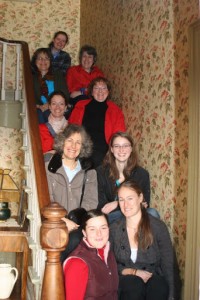 "One can't get over the habit of being a little girl all at once."
The kindred spirits that made Pam's birthday extra special – on the front staircase of the Manse.  Anna was the photographer.