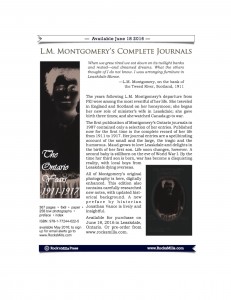 On Saturday June 18, one of the hardest-working non-profit organizations in Uxbridge Township will launch its very first book at a ceremony at an old country church in Leaskdale.
Lucy Maud Montgomery, the author of the enduringly popular Anne of Green Gables, is often associated with the setting of that and most of her other novels, her native Prince Edward Island. But Montgomery in fact spent almost half of her life in Ontario. In the village of Leaskdale, as the wife of a Presbyterian minister from 1911 to 1926, she knew the joy of motherhood, of friendship, of creating her own garden, of ongoing literary success (11 of her 22 books were written there). But she also knew the anguish of the Great War, of her husband's mental illness, of the loss of a stillborn son, and of her closest friend to the Spanish flu epidemic. The Leaskdale Manse was declared a National Historic Site in 1997; the book, entitled A Home of Her Own, tells of its restoration to the period when Maud dwelt there, and using her own powerful words, of the life she lived there.
The Lucy Maud Montgomery Society of Ontario (LMMSO) is charged with caring for the Manse and nearby Historic Church, and interpreting the significance of the site within the story of Montgomery's overall career. The Society has teamed with author/editor Conrad Boyce, photographer Stuart Blower and graphic designer Holly Myers to create a beautiful telling of the LMM/Leaskdale story.
"Books were very important to Lucy Maud Montgomery," says LMMSO President Melanie Whitfield, "so we're proud and excited to offer this one as a tribute to her presence in our community. It's full of lovely photographs, not just those of Stuart Blower showing the restored Manse and its artifacts, but those of Maud herself, capturing the building's rooms and the life her family lived within them."
The book will launch Saturday, June 18 at 2 p.m. at the Historic Church in Leaskdale. The public is welcome to attend.