2018 Calendar of Events
The Leaskdale Manse NHS and the Historic Leaskdale Church are wheelchair accessible on the first floor only. Our luncheon teas and Gift Shop at the Historic Leaskdale Church are both wheelchair accessible
Afternoon Luncheon Teas


Every Wednesday afternoon in July &
August, the Lucy Maud Montgomery Society's
Summer Afternoon Teas, Talks &
Entertainment will return to the Historic
Leaskdale Church. The cost for a five-course
luncheon tea with entertainment is $25.00.
Teas sell out quickly so please sign up early.
Teatime is between 1:00 and 3:00 pm
Wednesday, July 18 –

Summer Reading with Shelley's Picks
Shelly Macbeth of Blue Heron Books will recommend some of her favourite books for summer reading and discuss the unique programming that allows this bookstore to stay at the top of its game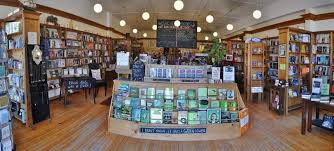 Monday, July 23 – Anne & Friends Children's Tea
A very special "dress-up" tea will be offered to children aged 6 to 12, accompanied by their "kindred spirit" (Parent, Grandparent, Babysitter, etc.) Lunch and an activity are planned. We are looking forward to some imaginative, creative, possibly Anne-related, formal-tea attired attendees! Please book in advance, as attendance is limited. Cost is $30 per adult/child couple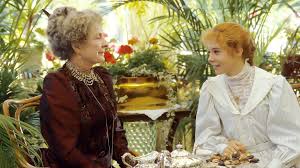 Wednesday, July 25 – A Musical Interlude
Alan Ely, vocalist and performer, will delight guests with his repertoire of songs and his entertaining gift of audience interaction
Wednesday, Aug. 1 –

Downton Abbey Tea
Need we say more? Back by popular demand – be sure to book early!
Wednesday, Aug. 8 –

A Visit to Norval
Kathy Gastle, a driving force to purchase the manse in the place where the Macdonald's moved after Leaskdale, will share her insights on the Montgomery connection to this picturesque village and the development of the site in Norval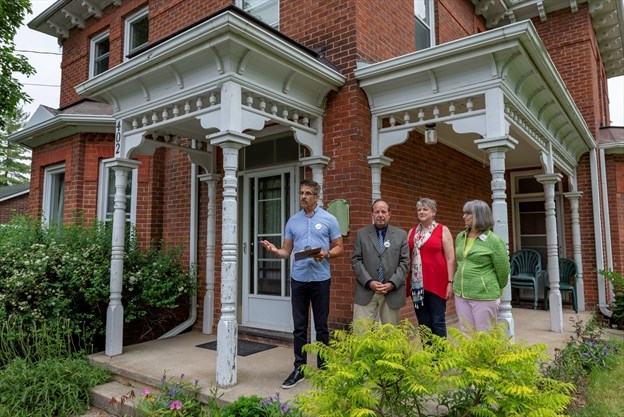 Wednesday, Aug. 15 – Lavender-Blu
Come celebrate the multifaceted beauty of lavender with Mila Haynos-Owen, a Lavender Artisan who will demonstrate the artistry behind her handcrafted lavender products
Wednesday, Aug. 22 –

Maud of Leaskdale

starring Jennifer Carroll
The original play starring Uxbridge's own Jennifer Carroll centre stage as Lucy Maud Montgomery returns by popular demand in a special abridged version for an afternoon tea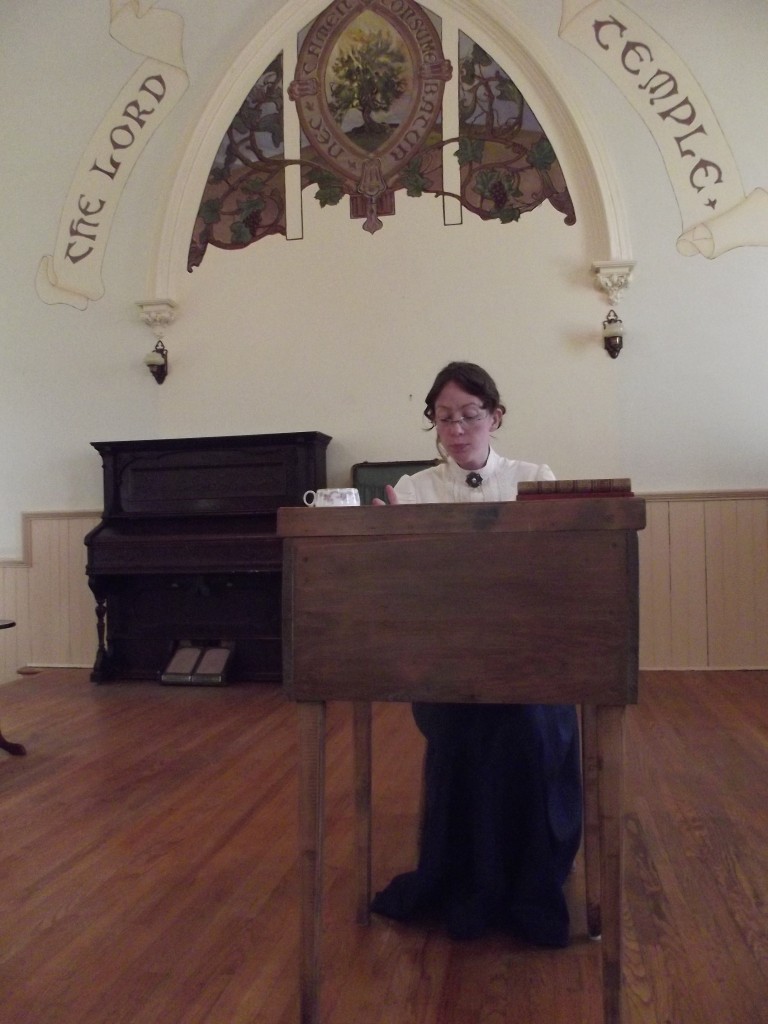 Maud of Leaskdale Special Weekend Performance
Saturday, August 25 & Sunday, August 26 @ 3:00 pm
Jennifer Carroll will return to the stage of the Historic Leaskdale Church to perform her acclaimed one-woman show based on the journals of L.M. Montgomery. This will be your only chance of the season to witness the full version of the original play that brings the Leaskdale era of Lucy Maud Montgomery to life in an extraordinary way!
Maud's Island Dinner and Down-Home Kitchen Party
Wednesday, August 29 @ 6:00 pm
A seafood dinner theatre reminiscent of the Island tradition accompanied by great Celtic and Canadian fiddle music. Tickets are $50 including the play, Maud of Leaskdale. Tickets for the play only, are also available @ $25.00
Tea at the Manse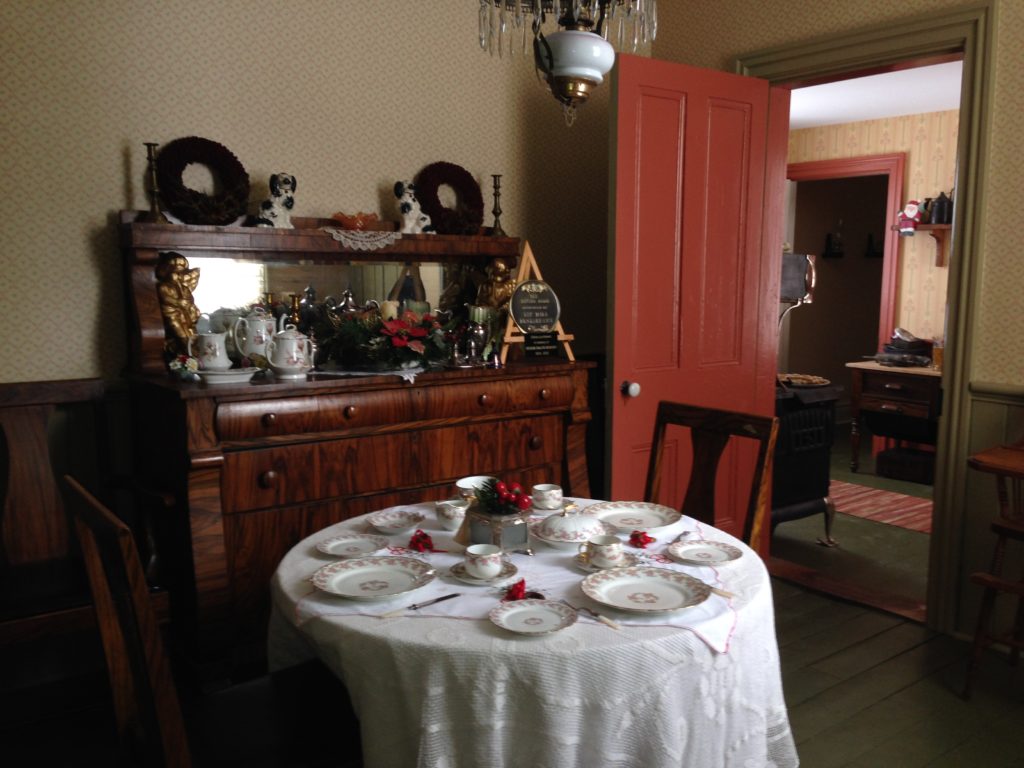 Enjoy an intimate tea with scones at the Leaskdale Manse using Maud's Limoges China dishes, "Bridal Rose". Booking available for up to 6 people @ $15.00 per guest, including a tour. Please call 905-862-0808 for booking availability.
Discover Maud in the Garden
After two years of hard work, our statue of Maud is installed in the garden, unveiled on June 20, 2015 by The Honourable Elizabeth Dowdeswell, Lieutenant Governor of Ontario.  A beautiful work of art by local artist, Wynn Walters, she is seated in the garden looking across the fields she loved.  Visit Maud in our church garden, sit and take your picture with her and finish with a tour of the home where she lived and wrote…
We are proud to bring Maud to the garden with the help of The Ontario Trillium Foundation.
Discover L. M. Montgomery's Life in Leaskdale
Tea & Tour package – Open everyday June thru Labour Day 10:00 – 4:00
Tour only: $7 per Adult, Children under 12 free
Tea & Tour: $12.00 per person

Tours available from September thru May by appointment only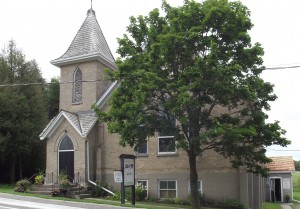 Take a journey back in time to The Leaskdale Manse and Historic Leaskdale Church.  Discover, nestled in our scenic garden, the only full-size bronze statue of Canada's beloved author. Gain insight into Maud's life with a historic video before walking in her footsteps on a guided tour through the church where her husband preached and the lovingly restored manse where she lived and wrote. After a photo-op in the garden beside the statue, enjoy tea and scones in our interpretive centre before perusing the gift shop for a book or two.
For directions to the site, please click on the following link, then the Get Directions button on top of the page:Directions to Leaskdale Manse National Historic Site
Please contact us if you would like to book a visit or have any questions regarding tours or special events at our site!
Bus Tours and Group Tours are always welcome – please call and book in advance.