2017 Calendar of Events
The Leaskdale Manse NHS and the Historic Leaskdale Church are wheelchair accessible on the first floor only. Our luncheon teas and Gift Shop at the Historic Leaskdale Church are both wheelchair accessible
Afternoon Luncheon Teas   1:00 – 3:00 pm
Every Wednesday afternoon in July & August, our Summer Afternoon Teas, Talks & Entertainment will return to the Historic Leaskdale Church.
The cost for a five-course luncheon tea with entertainment is $25.00.
Please call ahead to reserve your seating   905-862-0808
Wednesday, Aug. 16 – The Art of Ontario Cheeses
Cecelia Smith stimulates our appetites with an assortment of tasty Ontario cheeses – SOLD OUT
Wednesday, Aug. 23 – Carey Nicholson and the 360 Collective
Uxbridge theatre mentor, Carey Nicholson, introduces the L.M.M. community to Theatre 360 – SOLD OUT

Maud's Island Dinner and Entertainment
Thursday, August 24 @ 6:00 pm
Enjoy authentic Island cuisine and wine, followed by a performance of Montgomery's The Blue Castle. A whimsical night reminiscent of warm summer evenings on the Island.
Book early by calling 905-862-0808. Click here for online ticket purchases
Blue Castle by Marion Abbott Productions
Friday, August 25 and Saturday, August 26 @ 7:30 pm
A dramatization of the novel by L.M. Montgomery tells the story of Valancy Stirling. Cowed and subdued for most of her 28 years, a diagnosis from a doctor inspires her to take matters into her own hands and live life boldly in search of her "Blue Castle". Inspired by a vacation she spent in the Muskokas, this is one of the only books Montgomery set in Ontario. It's romantic and hilarious…Maud's writing at its best! Click here for online ticket purchases

The Spirit of Canada: A Literary Celebration
Friday, October 20, Saturday, October 21 & Sunday, October 22
An international conference blends Lucy Maud Montgomery's love of country and patriotism with a celebration of Canada's 150th birthday. Please see our  Call for Papers 2017
Down Home Celidh Kitchen Party
Saturday, October 21 @ 7:30 pm
Great Celtic and Canadian fiddle music! Stay "tuned".
Emily: The Musical
October 22, October 27 – 29, November 3 – 5
Bring the whole family to enjoy this community production put on by Kathy Bridgemen and lots of local talent. Book and lyrics by Richard Ouzounian and music by Marek Norman, based on Montgomery's beloved Emily series.

Community Christmas Concert
Saturday, November 25
Community talent takes the fore in an evening of music, dance, recitation and skits. All the family can join in the carol singing and fun, and enjoy a visit from Santa.
Community Church Service
Sunday, December 10
Our annual service will be held at the Historic Leaskdale Church at 1:00 p.m. and everyone is welcome to attend.
Discover Maud in the Garden
After two years of hard work, our statue of Maud is installed in the garden, unveiled on June 20, 2015 by The Honourable Elizabeth Dowdeswell, Lieutenant Governor of Ontario.  A beautiful work of art by local artist, Wynn Walters, she is seated in the garden looking across the fields she loved.  Visit Maud in our church garden, sit and take your picture with her and finish with a tour of the home where she lived and wrote…
We are proud to bring Maud to the garden with the help of The Ontario Trillium Foundation.
Discover L. M. Montgomery's Life in Leaskdale
Tea & Tour package – Open everyday June thru Labour Day 10:00 – 4:00
Tour only: $7 per Adult, Children under 12 free
Tea & Tour: $12.00 per person

Tours available from September thru May by appointment only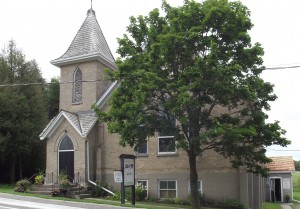 Take a journey back in time to The Leaskdale Manse and Historic Leaskdale Church.  Discover, nestled in our scenic garden, the only full-size bronze statue of Canada's beloved author. Gain insight into Maud's life with a historic video before walking in her footsteps on a guided tour through the church where her husband preached and the lovingly restored manse where she lived and wrote. After a photo-op in the garden beside the statue, enjoy tea and scones in our interpretive centre before perusing the gift shop for a book or two.
For directions to the site, please click on the following link, then the Get Directions button on top of the page:Directions to Leaskdale Manse National Historic Site
Please contact us if you would like to book a visit or have any questions regarding tours or special events at our site!
Bus Tours and Group Tours are always welcome – please call and book in advance.