2019 Calendar of Events
The Leaskdale Manse is wheelchair accessible on the first floor only. The Historic Leaskdale Church, home to our luncheon teas and Gift Shop, is now wheelchair accessible on both floors thanks to the installation of our new elevator in the Summer of 2018
The Tudor Consort Returns
Sunday, June 16 @ 3:00 pm
The Tudor Consort returns to the Historic Leaskdale Church with The Song of Songs and Songs of Love: works both sacred and profane from the 15th to 17th centuries. Donations welcomed in support of the Lucy Maud Montgomery Society of Ontario.
Gardens of Uxbridge
Saturday, June 22 – 10:00 am to 5 pm
The 23rd Annual Gardens of Uxbridge tour is a self-guided garden tour of 8 private gardens in Uxbridge and the surrounding countryside. Local residents open the garden gate to view their garden creations, rain or shine! Tickets are available to purchase online @ Eventbrite Garden of Uxbridge Tour
For more information CLICK HERE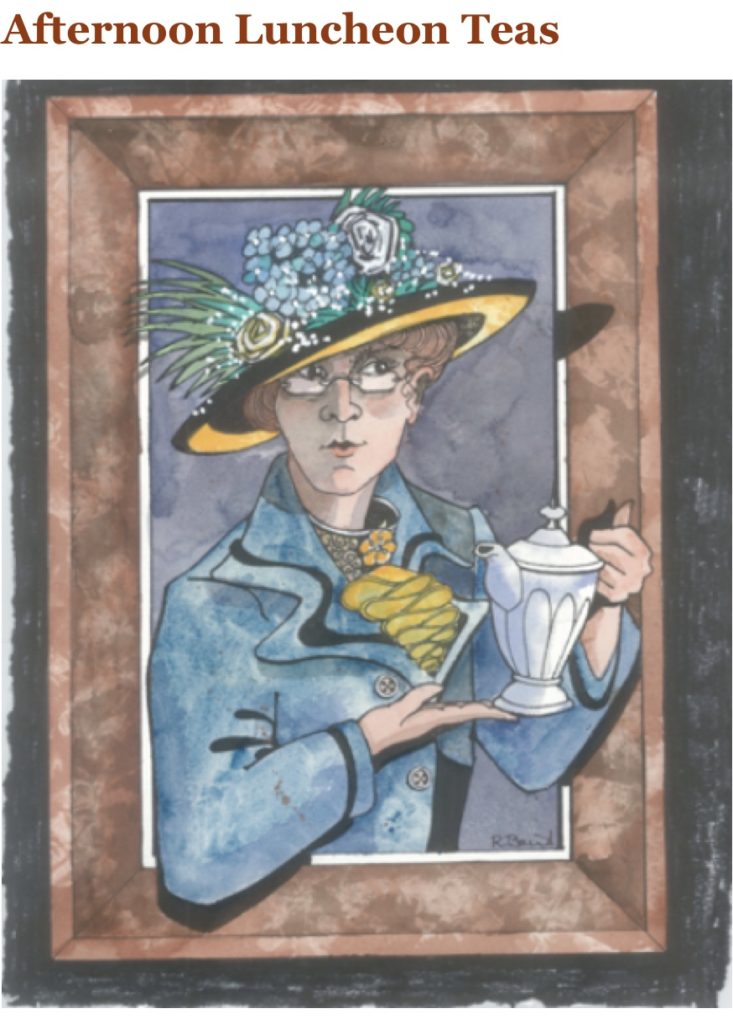 Six Wednesday afternoons in July & August,
the Lucy Maud Montgomery Society's Summer
Afternoon Teas, Talks & Entertainment will
return to the Historic Leaskdale Church
The cost for a five-course luncheon tea with
entertainment is $25.00
Teas sell out quickly so please sign up early
Teatime is between 1:00 and 3:00 pm
An Afternoon with Richter's Herbs
Wednesday, July 10
Koidu Sulev of Richter's Herbs will share her expertise on creating container gardens with the most popular and useful kitchen herbs.
Montgomeryshire Orchard
Wednesday, July 17
Darryl Tims of Montgomeryshire Orchard, Leaskdale, will speak on growing sea buckthorn and the nutritional properties of its berries.
"Anne and Friends" Children's Tea
Monday, July 22
This is a special Monday Tea provided for children between the ages of 4 and 12 with stories, crafts, games, old-fashioned ice cream making and delicious tea treats. This special tea is priced at $30 per couple (child and escort)
Artisanal Flutes
Wednesday, July 24
Steve Rensink joins us this afternoon to demonstrate the crafting of artisanal flutes.
An Afternoon with Ruth Greenlaw
Wednesday, July 31
A fan of L. M.  Montgomery, Ruth Greenlaw speaks on how she incorporates her travel experiences to foreign lands in her art. She will also relate her work with plants and flowers to Montgomery's writings.
Garry Edwards from Meadowview Gardens
Wednesday, August 7
Garry Edwards of Meadowview Gardens in Northumberland County describes the work of transforming 7 acres of rural farmland into amazing ornamental gardens – a Victorian kitchen garden, a pond with waterfall and many other interesting features.
History of Photography
Wednesday, August 14
Jill Passmore of the Oshawa Museum speaks on the history of photography and how it has transformed the way we see the world.
Maud of Leaskdale
August 15, 17 and 18
The play, Maud of Leaskdale starring Jennifer Carroll, returns to the Historic Leaskdale Church.
MacGillivray Art Exhibition
August 24 through September 2
The LMMSO presents an Exhibition of Allan Macgillivray's paintings at the Historic Leaskdale Church.
"High Tea with Lucy Maud Montgomery"
September 8
LMMSO is partnering with York- Durham Heritage Railway to provide an enjoyable tea during an excursion from Uxbridge to Stouffville. It was at the Uxbridge station where Maud arrived in September 1911 and from which she often took the train through Stouffville to Toronto. Tickets priced at $58.99. For more information and to purchase tickets, please CLICK HERE 
LMM Day
October 26
Celebrating "25 Years and More: A History of the LMMSO".
Maud's Old-Fashioned Christmas Concert
November 23
The Historic Leaskdale Church plays host to Maud's Old-Fashioned Christmas Concert. Celebrate local talent while anticipating a visit from Santa! Admission is by donation.

Annual Christmas Church service
December 8 
The Lucy Maud Montgomery Society of Ontario invites you to our annual Community Church service at the Historic Leaskdale Church.
Discover L. M. Montgomery's Life in Leaskdale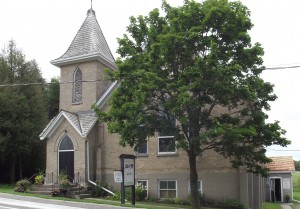 Take a journey back in time to The Leaskdale Manse and Historic Leaskdale Church.  Discover, nestled in our scenic garden, the only full-size bronze statue of Canada's beloved author. Gain insight into Maud's life with a historic video before walking in her footsteps on a guided tour through the church where her husband preached and the lovingly restored manse where she lived and wrote. After a photo-op in the garden beside the statue, enjoy tea and scones in our interpretive centre before perusing the gift shop for a book or two.
Our site will be open in June from Wednesday thru Sunday 10:00 – 4:00*
*

Other dates or times by appointment
Summer S
eason – Open everyday July thru Labour Day 10:00 – 4:00
TEA & TOURS:
Tour only: $7 per Adult, Children under 12 free
Tea & Tour: $12.00 per person
3 Course Lunch & Tour: $20.00 p/person (Groups over 12)
**Tours are available September thru May by appointment only**
OUR SITE IS CLOSED AT THE PRESENT TIME
Contact us  if you would like to book a visit or have any questions regarding tours or special events at our site!
Bus Tours and Group Tours are always welcome – please call and book in advance.
Melanie Whitfield  705-228-8155
Tess Dempster 905-852-6515
Barb Pratt  905-852-3517
Directions to the site:  
From Highway 404:  East on Bloomington Rd. to Uxbridge. North on Main St. to Leaskdale
From Highway 401:  North on Highway 23 (Lakeridge Rd.) to Durham Rd. 13 (Leaskdale Rd.) West to Leaskdale