L.M. Montgomery is a trademark of the Heirs of L.M. Montgomery Inc. and is used under licence by the LMMSO
2022 Calendar of Events 
The Leaskdale Manse is wheelchair accessible on the first floor only. The Historic Leaskdale Church, home to our luncheon teas and Gift Shop, is now wheelchair accessible on both floors thanks to the installation of our new elevator in the Summer of 2018. 
Anne and Maud Experience "Launch Day" 
Sunday, June 5 – 10 am to 5pm
Tour the Lucy Maud Montgomery Trail in Uxbridge to kick-off the 2022 season for the Anne and Maud Experience!
Hop on, hop off the Historic Town Trolley and the White Lightning bus for a tour to some of the key sites along the Lucy Maud Montgomery Trail. The trolley will leave downtown Uxbridge (23 Brock Street) every half hour to shuttle to the various historical sites. 
Your visit to the Leaskdale Manse National Historic Site and the Historic Church will include a tour of the home of Lucy Maud Montgomery from 1911 to 1926, author of Anne of Green Gables.
Actress Jennifer Carroll will be onsite as "Maud" from 1pm to 5pm to greet visitors. Tours will be available all day free of charge beginning at 10 am. 
The Anne and Maud Experience
Saturday, June 25 @ 10:00 am – Gardens of Uxbridge 2022
Our 26th Annual Garden of Uxbridge Tour begins at the Uxbridge Arena, Uxbridge on June 25 from 10:00 am to 5:00 pm
Invite a friend! We hope you are able to join us. To purchase your tickets ONLINE, please CLICK HERE

Our Summer Luncheon Teas are Back!
Our summer tea series begins in just a few weeks! Join us for a delicious five-course
Luncheon Tea followed by a presentation by a guest speaker.
Please call ahead to book your seating @ 905-862-0808
Time:  Wednesdays, 1:00 – 3:00 pm
Cost: $30.00 
We are looking forward to seeing your smiling faces again!
July 13th– John Ota "The Houses, Kitchens, and Dining Rooms of Lucy Maud Montgomery" 
John Ota M.S., B.Arch., BA., Is a proud Japanese Canadian who has had a varied career in the architect and design world in Canada. His passion is food and kitchens. He is the author of the best-selling book THE KITCHEN (from Penguin Random House) which is the culmination of his journey through history to find the perfect kitchen.  John will be speaking to us about Maud and her kitchens in Leaskdale and Norval and her experiences and emotions involved with them.
July 20th – Richard Dickinson "Native Plants in the Garden" Richard is the co-proprietor with his partner of "The Wild Garden" a boutique-style floral design and garden décor store in Cannington. He will share his expertise on the importance of native plants in our gardens and feature the transformation of his own garden.
July 27th– Bonnie Lemaire "Creative Passions"
Bonnie began her career as a freelance illustrator. She is a graduate of the Ontario College of Arts Communication and Design program. She is a well-known author of "quirky, eccentrical, fantastical children's stories." She has seen her work utilized in many different projects including home décor, giftware, stickers, toy design, and more recently…FABRIC!
August 3rd – Marianne Jones, Maud and Me
Marianne Jones was born and raised in Thunder Bay where she still lives. In Maud and Me she explores the inner isolation of a woman resigned to her role as pastor's wife in a small northern community, who finds an ally in Lucy Maud Montgomery. Kindred Spirits, the woman and Maud are separated by decades and death but find companionship through their similar circumstances. Marianne will present to us virtually from Thunder Bay.
August 10th – The LMMSO "A Tea for Ukraine" This tea will feature a Ukrainian menu, a variety of themed activities and special guests. (more details to follow)
August 17th – Jennifer Carroll, Maud of Leaskdale
Jennifer Carroll will bring her profound performance of Maud to the stage for the shorter version of this signature play now in its eleventh season. All the words are taken from Montgomery's own journals and performed in the church where her husband was minister for 16 years and where she contributed significantly to the work of the congregation. The play was created and directed by Conrad Boyce.
August 18, 20 & 21 – The Play, Maud of Leaskdale
Maud of Leaskdale starring Jennifer Carroll features the complete version of this play now in its eleventh season.
September 9 thru 17 – The Play, Rainbow Valley
Rainbow Valley written by Hank Stinson, musical score by Marti Hopson.This play is based on the novel by Lucy Maud Montgomery which she wrote during her time in Leaskdale. It features one of the main themes of the book surrounding the motherless children of the manse and the romance which develops. Rainbow Valley is being performed for the first time in Ontario. It is produced by the LMMSO and directed by Conrad Boyce. (more details to follow)
The Leaskdale Loop Returns for 2022
April thorough December, local businesses, including the Leaskdale Manse NHS, open their doors on the Second Saturday of the month.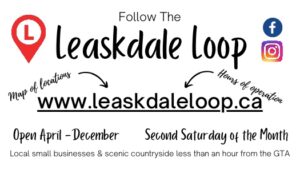 November 19 – An Olde Fashioned Christmas Concert 
An Olde Fashioned Christmas Concert is revived after a pandemic break!
December 11th – Annual Church Service and Christmas Tea 
Join us for carols and good tidings of the season followed by a Festive Tea. The cost is $15.00
Discover L. M. Montgomery's Life in Leaskdale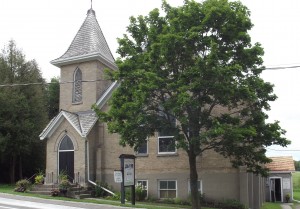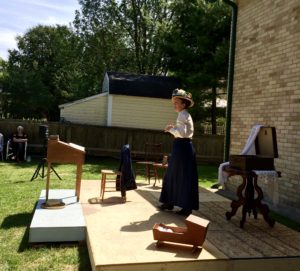 Take a journey back in time to The Leaskdale Manse and Historic Leaskdale Church. Discover, nestled in our scenic garden, the only full-size bronze statue of Canada's beloved author. Gain insight into Maud's life with an historic video before walking in her footsteps on a guided tour through the church where her husband preached and the lovingly restored manse where she lived and wrote.After a photo-op in the garden beside the statue, enjoy tea and scones in our interpretive centre before perusing the gift shop for a book or two.
TEA & TOURS (June thru September)*
Tour only: $10.00 per Adult, Children under 12 free
Tea, Scone & Tour: $15.00 per person
Light Lunch & Tour: $20.00 per person (Groups over 10)
ALL TOURS WITH LUNCH
MUST

BE BOOKED IN ADVANCE

CONTACT US  if you would like to book a visit or have any questions regarding tours or special events at our site!

Bus Tours and Group Tours are always welcome – please call and book in advance at 905-862-0808
*OFF-SEASON TOURS are available by appointment only*
*Off-season Tours & Bookings, please call:
Melanie Whitfield  705-228-8155
Tess Dempster  905-852-6515
Directions to the site:  
From Highway 404:  East on Bloomington Rd. to Uxbridge. North on Main St. to Leaskdale (follow the in-town signs)
From Highway 401:  North on Highway 23 (Lakeridge Rd.) to Durham Rd. 13 (Leaskdale Rd.) West to Leaskdale