2021 Calendar of Events 
The Leaskdale Manse is wheelchair accessible on the first floor only. The Historic Leaskdale Church, home to our luncheon teas and Gift Shop, is now wheelchair accessible on both floors thanks to the installation of our new elevator in the Summer of 2018 
The Leaskdale Manse N.H.S. is now accepting pre-booked tours and is reopening on July 16
We are currently at the site between the hours of 10:00 am – 4:00 pm
Please call
905-862-0808
for

all

 inquiries
and to book your tickets for our upcoming teas, tours, and the play Maud of Leaskdale.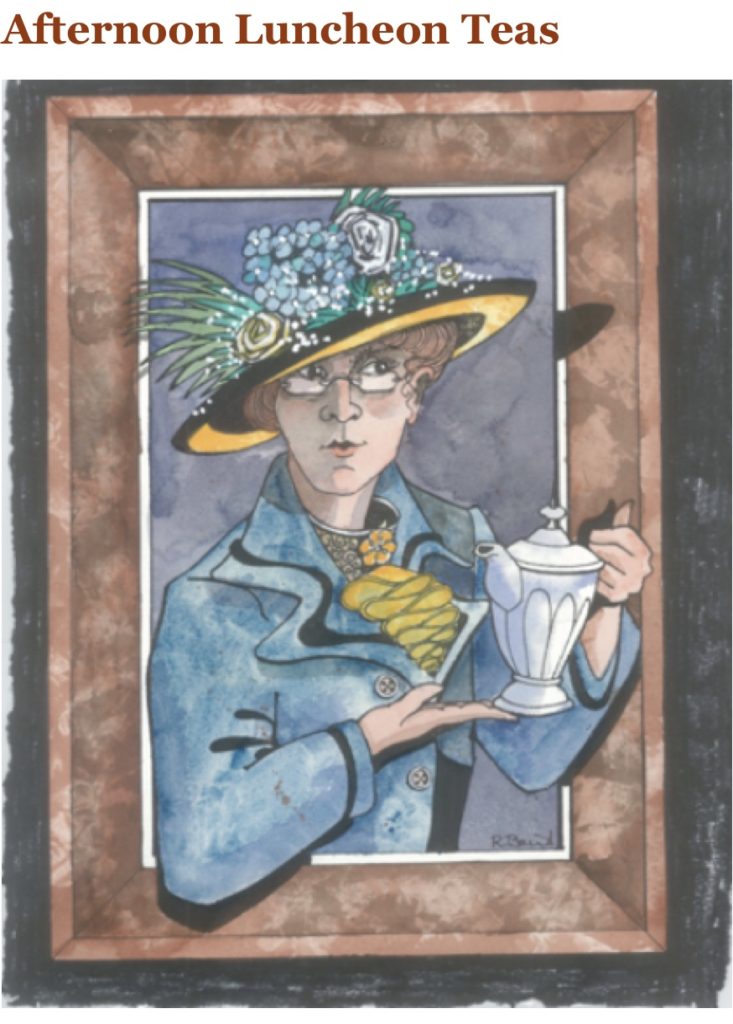 Afternoon

Luncheon Teas  
Wednesdays in August*
1:00 – 3:00 pm
Please join us for our Summer Luncheon Teas, with entertainment, in August. As space will be limited, please call 905-862-0808 to reserve your seating.
Cost $30.00 per person
Includes 5 course luncheon tea, entertainment and tour of the site
*Current Covid guidelines will be in place
August 4 – 100 Years of Rilla of Ingleside
The LMMSO will share interesting details that surrounded the life of Montgomery before and during the war and inspired her to write this WWI era novel. 
August 11 – Slabtown Cider
A destination craft cidery and a local food market, producing refreshingly crisp craft ciders made from 100% Ontario produce. (speaker TBA)
August 18 – Sarafino
Join Angelo Tramonti, Certified Olive Oil Taster certified in Calabria, Italy for a discussion on the truth about olive oil. In this talk you will learn the different grades of olive oil, how fraudulence in the industry affects the quality and benefits of the products you use, the truth about "First Cold Pressed" and which oils you can confidently use.
August 25 – The Passionate Cook's Essen

tials

 with Lisa Hutchinson
Lisa will speak to her passion for all things food, including top-of-the-line kitchenware, fine foods and artisan cheese. She will also talk about the evolution of her business since she began in 2010.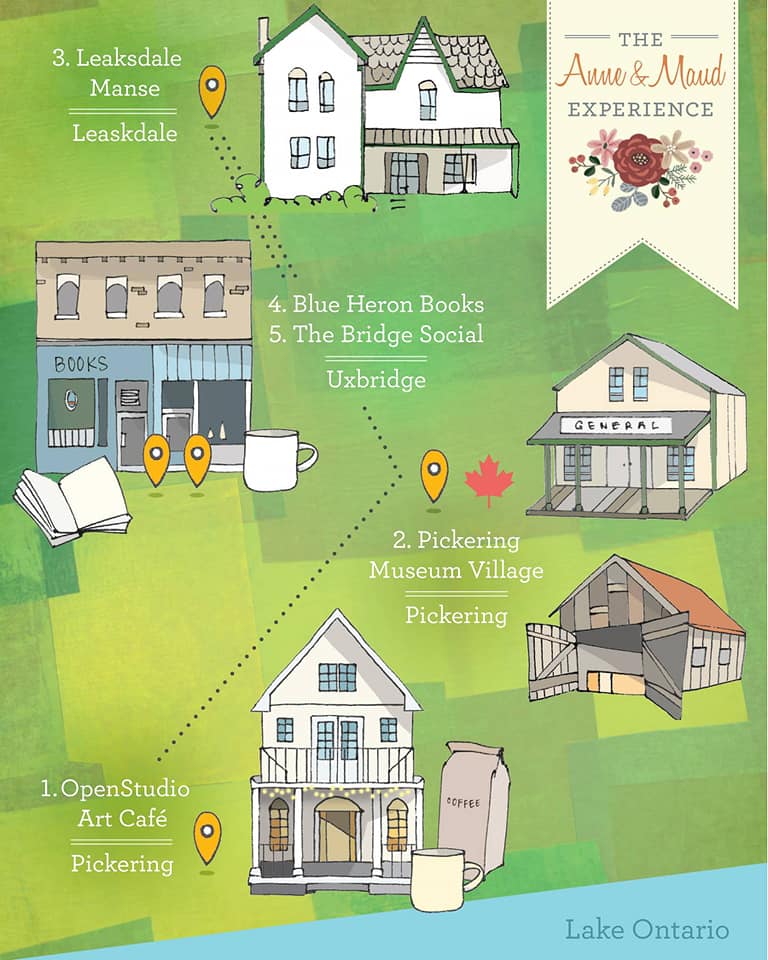 July to September
Anne and Maud Experience

 
Tour the Leaskdale Manse – the Ontario home, first she could call her own, where the author penned 10 novels while she raised her family. 
Explore the world behind-the-camera tour of various 'Anne' productions at Pickering Museum Village. 
Plan a picnic. Take tea with scones. Little fans can enjoy ice cream and be entertained by a Cavendish cat. And don't forget to refresh and shop locally to help you remember this great Canadian treasure and your summer 2021 experience!
To Download the Anne and Maud Experience Map, please CLICK HERE
Celebrating the 10th Anniversary of the play, Maud of Leaskdale!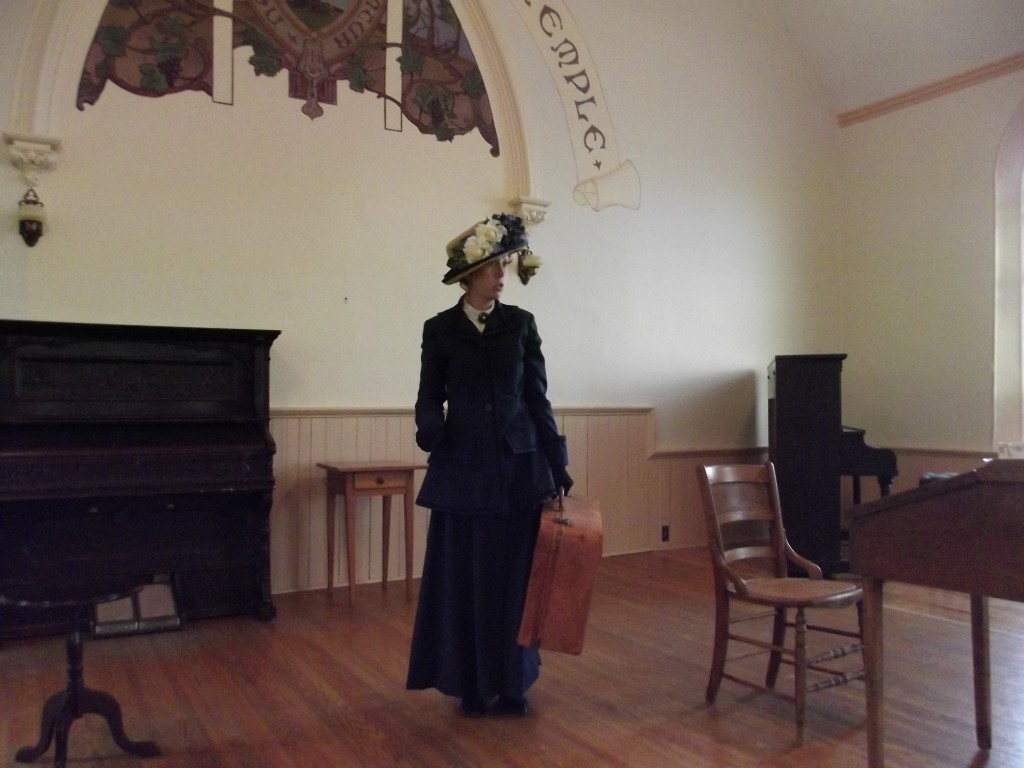 Our renowned one-woman play starring local actress Jennifer Carroll and created and directed by Conrad Boyce is celebrating the 10th anniversary of its premiere at the 2011 LMM Conference. 
Performances will take place Thursday, August 26 @ 7:00 pm and Saturday, August 28 & Sunday, August 29 @ 3:00 pm with plans for a celebratory performance on October 30 as part of LMM Day.
Tickets $25.00 per person. $10.00 for children 15 and under.
Saturday Oct. 30 – LMM Day – The Pandemics and LM Montgomery
Discover L. M. Montgomery's Life in Leaskdale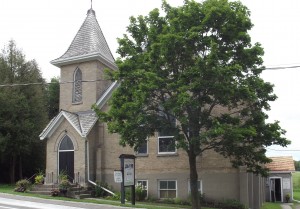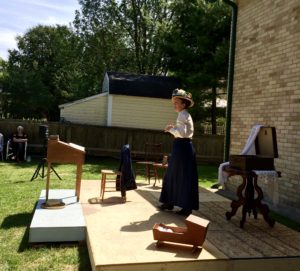 Take a journey back in time to The Leaskdale Manse and Historic Leaskdale Church. Discover, nestled in our scenic garden, the only full-size bronze statue of Canada's beloved author. Gain insight into Maud's life with an historic video before walking in her footsteps on a guided tour through the church where her husband preached and the lovingly restored manse where she lived and wrote.After a photo-op in the garden beside the statue, enjoy tea and scones in our interpretive centre before perusing the gift shop for a book or two.
TEA & TOURS – JULY & AUGUST*
Tour only: $7.00 per Adult, Children under 12 free
Tea & Tour: $15.00 per person
3 Course Luncheon Tea & Tour: $25.00 p/person (Groups over 12)
CONTACT US  if you would like to book a visit or have any questions regarding tours or special events at our site!
Bus Tours and Group Tours are always welcome – please call and book in advance at 905-862-0808
*OFF-SEASON TOURS are available by appointment only*
*Off-season Tours & Bookings, please call:
Melanie Whitfield  705-228-8155
Tess Dempster  905-852-6515
Directions to the site:  
From Highway 404:  East on Bloomington Rd. to Uxbridge. North on Main St. to Leaskdale (follow the in-town signs)
From Highway 401:  North on Highway 23 (Lakeridge Rd.) to Durham Rd. 13 (Leaskdale Rd.) West to Leaskdale