L.M. Montgomery is a trademark of the Heirs of L.M. Montgomery Inc. and is used under licence by the LMMSO
2023 Calendar of Events 
The Leaskdale Manse is wheelchair accessible on the first floor only. The Historic Leaskdale Church, home to our luncheon teas and Gift Shop, is now wheelchair accessible on both floors thanks to the installation of our new elevator in the Summer of 2018. 
The Leaskdale Manse NHS is open weekends in May 10am-4pm
For All Inquiries, please contact us at
905-862-0808
Leaskdale Loop Days 10:00 am – 5:00 pm
Follow our self-guided driving tour in the scenic countryside of Leaskdale, Ontario. Discover unique destinations just minutes from each other & less than an hour from the GTA.
Enjoy the Leaskdale Loop's 2023 festivals where you can find flowers & produce grown on site; farm market fare, cider & syrup right where they are made. Discover various artisans, historical sites, vintage barns, live music and more. Connect with the makers and growers, feel good about the products you take home. Please click here to Visit the Leaskdale Loop.
Leaskdale Loop – Spring Flower Fest – Saturday, June 3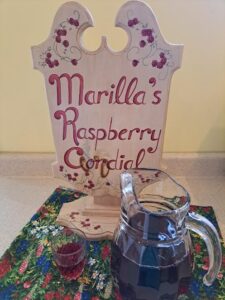 Admire a display about L. M. Montgomery's Garden. 
Participate in painting a Flower Fest mural!
Have your picture taken with "Anne"!
Enjoy a glass of raspberry cordial!
More Jazz in Leaskdale – Friday, June 16 @ 7:30 pm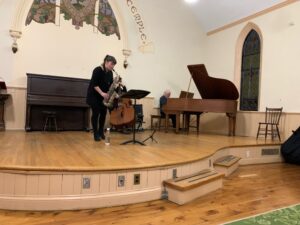 Please join us for an "encore" performance of Jazz in Leaskdale with Thomas Baker and friends at the Historic Leaskdale Church. Please arrive early for the best seating. Admission is by donation, to help refurbish our newly-acquired grand piano. Refreshments will be served.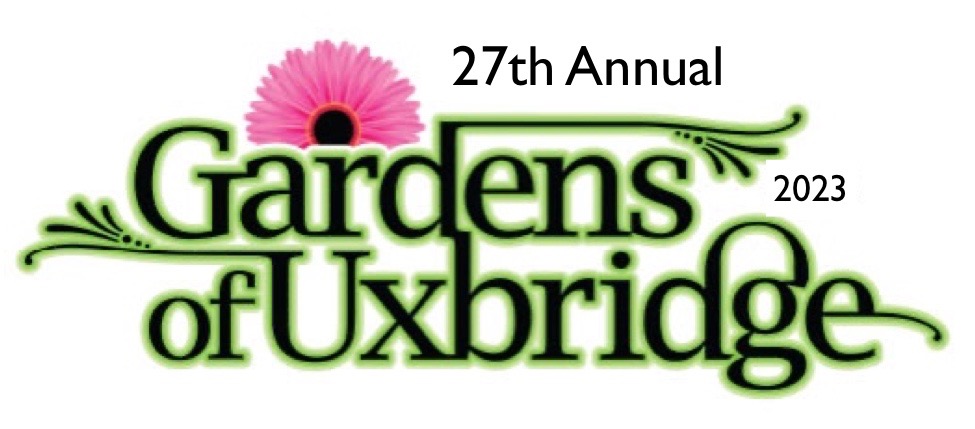 Gardens of Uxbridge – Saturday, June 24 10:00 am – 5:00 pm
Join us for a day trip to the Uxbridge Countryside and enjoy a garden experience. Discover the many benefits of gardening and get some ideas for your own gardens by visiting the beautiful private gardens on the 2023 Gardens of Uxbridge self-guided garden tour.
Tickets are now on sale. Please  CLICK HERE  to purchase your tickets online.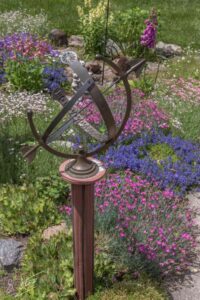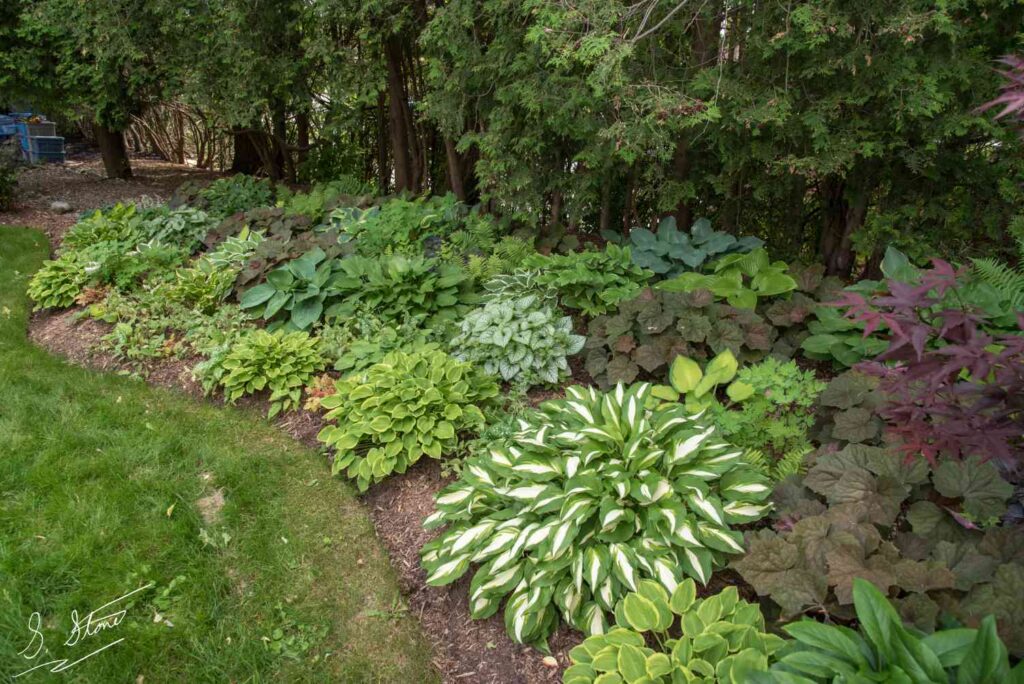 Leaskdale Loop – Strawberry Picking Day – Saturday, July 1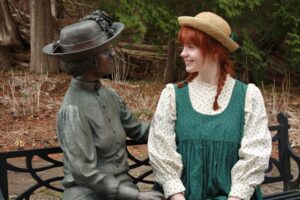 See an ice cream making demonstration, the old fashioned way!
Enjoy a taste of homemade strawberry ice cream! 
Anne loves ice cream! Have your picture taken with "Anne!"
Summer Luncheon Teas – Wednesdays 1:00 – 3:00 pm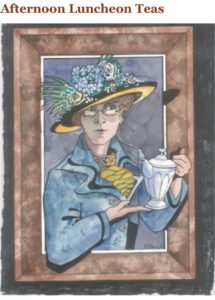 Our Summer Luncheon Teas are here!
Wednesdays from 1:00-3:00 during
 the months of July and August.
Tickets are $30.00 at the door.
Please call ahead and join us for the
special entertainment booked for each of
these very popular 5-course luncheon teas.
July 12 – My Maud with Rosalee Peppard Lockyer
Rosalee is an internationally recognized, award winning Canadian women's musical oral historian. She collects and celebrates the authentic, living voice of the women she interviews and researches, such as Lucy Maud Montgomery. She then creates "song portraits" and poems etc. of these national heroines. Come and experience the life of Maud in this most unique way!
July 19 – Handiwork Expertise with Sheron Albert
This multi-talented Uxbridge resident will show and describe her expert handiwork. Sheron does crewel embroidery work, crochet, knitting, cross stitching and gold work. She will show us examples of each. Guests are encouraged to bring and share a piece of their own work.
August 2 – Musical Nostalgia with Art Lajambe
Art is an award-winning singer/musician who specializes in "golden oldies" and also more recent tunes. He is very entertaining and welcomes you to sing along. Art happily and enthusiastically takes requests from the audience!
August 9 – Leaskdale Loop 2023
 Anne Irvine of Hosta Hideaway & Out of the Barn, and Pat Cherrie of Greenmantle Pottery, will represent and describe the diverse collection of small rural businesses in and around Leaskdale, Ontario. 
August 16 – 100 Years of Emily of New Moon 
Anne of Green Gables is Montgomery's most famous novel, yet her heroine Emily was described by Maud as being the most like herself, her inner self. Come and learn more about this girl with the black hair and purplish gray eyes who personally experienced "the flash". This tea will be presented by the LMMSO.
August 23 – Maud of Leaskdale
Experience the life of Lucy Maud Montgomery in Leaskdale through the dynamic and thought-provoking performance of actress Jennifer Carroll. This acclaimed one-woman show is the signature event of the LMMSO and is celebrating its 12th year of sharing Maud's story. 
Anne of Green Gables, A Ryleepus Production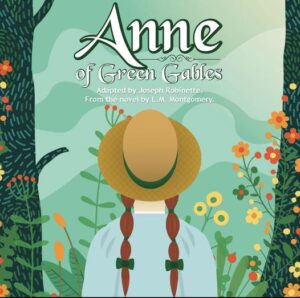 July 21, 22(two shows) and July 23*
July 28, 29(two shows) and July 30*
July 23rd and 30th – Special Dessert Teas
at 1:00pm prior to show
The Anne and Maud Experience – July 29th and 30th
Maud of Leaskdale Dinner Theatre – Thurs. August 24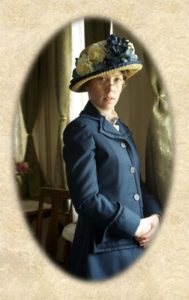 Plan to attend our first-ever Maud of Leaskdale Dinner Theatre!
5:30 Dinner~7:30 Play, Maud of Leaskdale~Tickets $50
The Play, Maud of Leaskdale
Sat. Aug 26 & Sun. Aug. 27 @ 3:00 pm~Tickets $25
Experience the life of L. M. Montgomery during her first fifteen years in Ontario (1911-1926), when she became a mother, a world-famous author, and the wife of a Presbyterian minister.
Discover L. M. Montgomery's Life in Leaskdale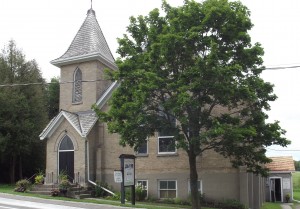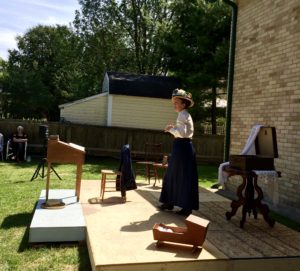 Take a journey back in time to The Leaskdale Manse and Historic Leaskdale Church. Discover, nestled in our scenic garden, the only full-size bronze statue of Canada's beloved author. Gain insight into Maud's life with an historic video before walking in her footsteps on a guided tour through the church where her husband preached and the lovingly restored manse where she lived and wrote.After a photo-op in the garden beside the statue, enjoy tea and scones in our interpretive centre before perusing the gift shop for a book or two.
TEA & TOURS (June thru September)*
Tour only: $10.00 per Adult, Children under 12 free
Tea, Scone & Tour: $15.00 per person
Light Lunch & Tour: $20.00 per person (Groups over 10)
ALL TOURS WITH LUNCH
MUST

BE BOOKED IN ADVANCE

CONTACT US  if you would like to book a visit or have any questions regarding tours or special events at our site!

Bus Tours and Group Tours are always welcome – please call and book in advance at 905-862-0808
*OFF-SEASON TOURS are available by appointment only*
*Off-season Tours & Bookings, please call:
Melanie Whitfield  705-228-8155
Tess Dempster  905-852-6515
Directions to the site:  
From Highway 404:  East on Bloomington Rd. to Uxbridge. North on Main St. to Leaskdale (follow the in-town signs)
From Highway 401:  North on Highway 23 (Lakeridge Rd.) to Durham Rd. 13 (Leaskdale Rd.) West to Leaskdale