2021 Calendar of Events 
The Leaskdale Manse is wheelchair accessible on the first floor only. The Historic Leaskdale Church, home to our luncheon teas and Gift Shop, is now wheelchair accessible on both floors thanks to the installation of our new elevator in the Summer of 2018. 
Our Summer Hours have ended. 
During the month of September we will be at the site weekends only from 10:00 to 4:00 
Please call
705-228-8155
 for

all

 inquiries or see bottom of page*
We thank you, once again, for your continued support.
L.M.M. Day 2021
Saturday Oct. 30 – The Pandemics and L. M. Montgomery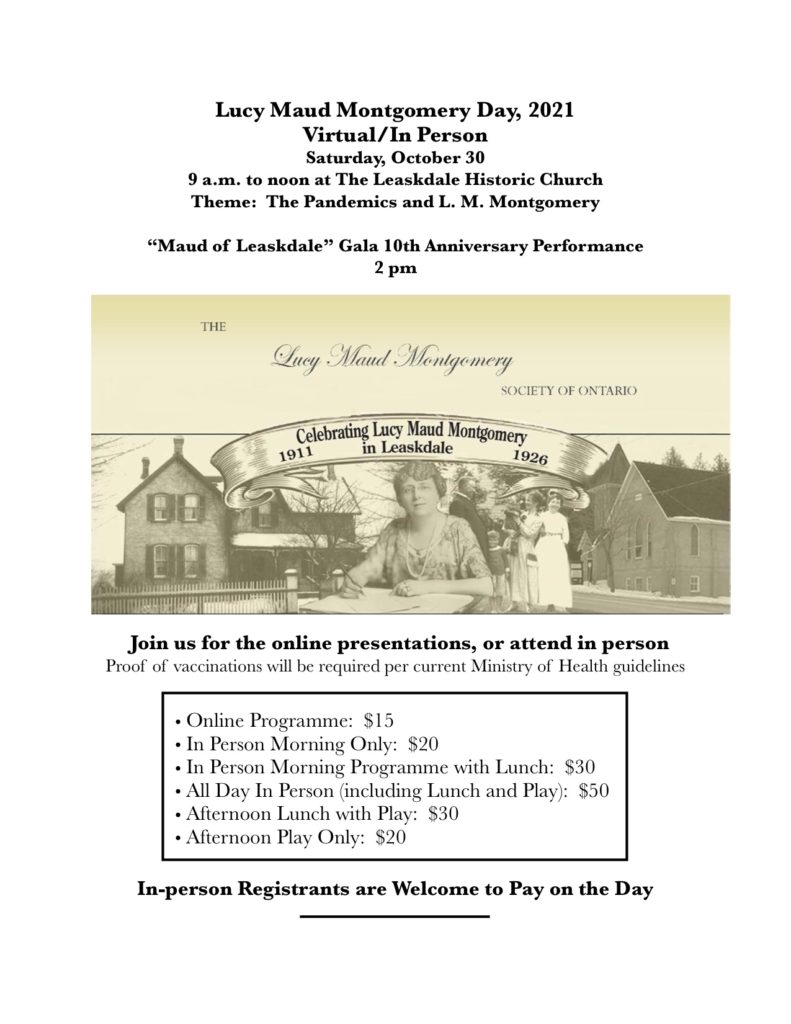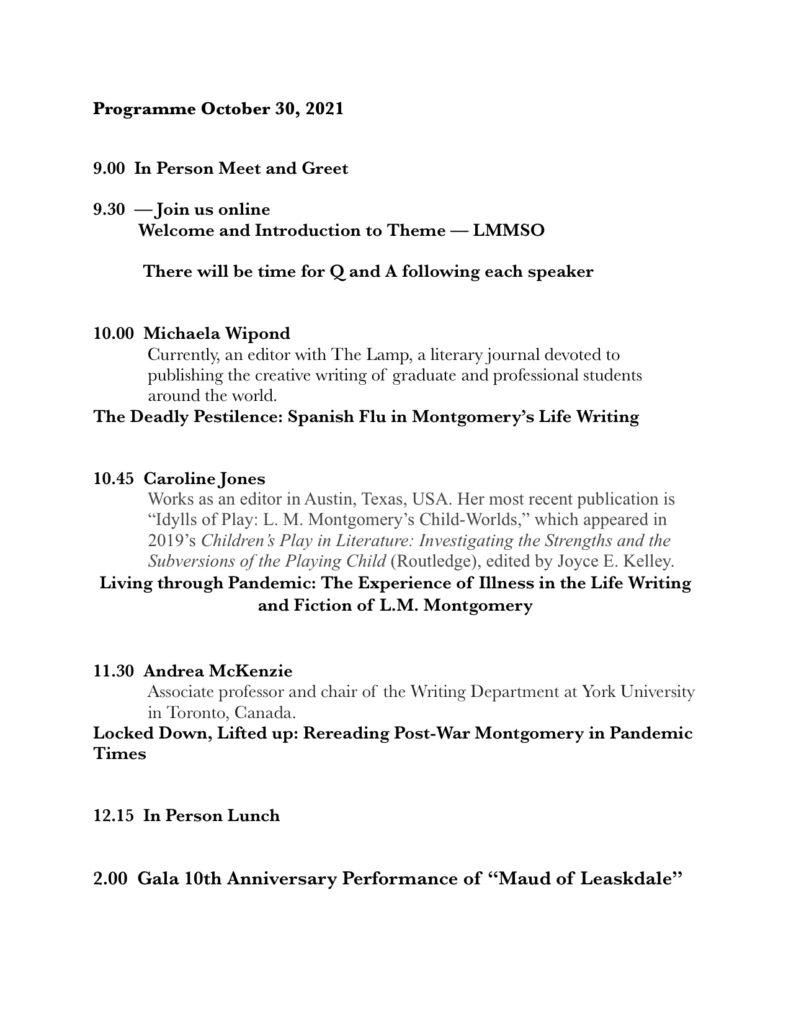 There are two LMM Day registration options:
To register and pay for registration by mail, please print out a registration form from the link below.  Fill in the form, make out a cheque, money order or bank or postal draft in the appropriate amount, then mail the form and payment to:
L.M. Montgomery Society of Ontario
PO Box # 84
Leaskdale, ON L0C 1C0
Canada.
Please make your payment instrument payable to
"Lucy Maud Montgomery Society of Ontario".
LMM Day 2021 Registration Form
To register and pay online, please click the category from one of the PayPal links below:
Online Programme $15.00
In Person Morning Only $20.00
In Person Morning Programme with Lunch $30.00
All Day In Person (Including Lunch & Play) $50.00
Afternoon Lunch with Play $30.00
Afternoon Play Only $20.00
Discover L. M. Montgomery's Life in Leaskdale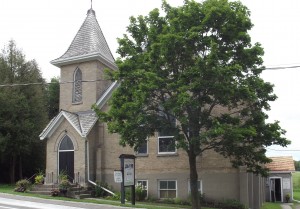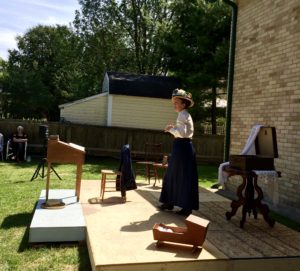 Take a journey back in time to The Leaskdale Manse and Historic Leaskdale Church. Discover, nestled in our scenic garden, the only full-size bronze statue of Canada's beloved author. Gain insight into Maud's life with an historic video before walking in her footsteps on a guided tour through the church where her husband preached and the lovingly restored manse where she lived and wrote.After a photo-op in the garden beside the statue, enjoy tea and scones in our interpretive centre before perusing the gift shop for a book or two.
TEA & TOURS (June thru September)*
Tour only: $7.00 per Adult, Children under 12 free
Tea & Tour: $15.00 per person
3 Course Luncheon Tea & Tour: $25.00 p/person (Groups over 12)
CONTACT US  if you would like to book a visit or have any questions regarding tours or special events at our site!
Bus Tours and Group Tours are always welcome – please call and book in advance at 905-862-0808
*OFF-SEASON TOURS are available by appointment only*
*Off-season Tours & Bookings, please call:
Melanie Whitfield  705-228-8155
Tess Dempster  905-852-6515
Directions to the site:  
From Highway 404:  East on Bloomington Rd. to Uxbridge. North on Main St. to Leaskdale (follow the in-town signs)
From Highway 401:  North on Highway 23 (Lakeridge Rd.) to Durham Rd. 13 (Leaskdale Rd.) West to Leaskdale