Resources
The Selected Journals of L.M. Montgomery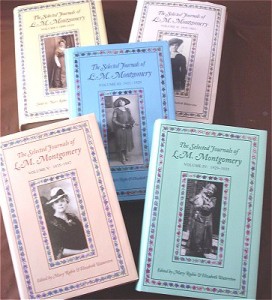 L.M. Montgomery left a great legacy in the form of the  diary she faithfully kept for most of her life.  Of the ten hand-written volumes she left at the time of her  death, eight were written about her years in Ontario; the first two were about her youthful years in  Prince Edward Island.  In 1919, while living in Leaskdale Ontario, Montgomery began recopying her  earlier journals.  It is apparent that she intended, or at least considered the possibility, that they would  some day be published.  She illustrated the handwritten notebooks with pictures from her own camera,  and with clippings and other memorabilia.  On her death, the journals were left in the care of her  younger son, Dr. Stuart Macdonald, who intended to prepare them for publication when he retired, but  for health reasons he eventually gave over the job of editing and overseeing the publication to two  academics at the University of Guelph, Ontario who had a great interest in L.M. Montgomery's life and  writing: Dr. Elizabeth Waterston and Mary Rubio.  The full story of how the journals came to them and  to the University of Guelph Archives in Ontario and then to be published by Oxford University Press  (Canada) is told by Mary Rubio in The Lucy Maud Montgomery Album, compiled by Kevin McCabe,  (Fitzhenry and Whiteside), 1999. The Journals are especially interesting because they provide a unique social history of her time, and give the reader the privilege of viewing closely the life of a remarkable woman.
Volume 1: 1889 to 1910 These earliest entries are from the time Maud was a girl of 15 to just after the publication of Anne of Green Gables. Her lively impressions of school days, her romances, her beginning teaching career, and her unhappiness at having to stay home to take care of aging grandparents are told day by day, in the style of a gifted storyteller.
Volume 2: 1910 to 1921: The Leaskdale Years This volume records a time of great upheaval in both Montgomery's life and in society in Canada.  Already the famous author of Anne of Green Gables, she arrived as the bride of Ewan Macdonald and took her place as minister's wife in the farming village of Leaskdale, Ontario.  The entries in this volume swing from intense happiness, in her first home and the birth of her sons, to despair, as the First World War disrupts her life and her faith in humanity.
Volume 3: 1921 to 1929 Her fame as an author was growing; she had created two new heroines: Emily and Marigold.  Living a busy life in Leaskdale and then moving to Norval Ontario, she still longed for her native Prince Edward Island.  Her last months in Leaskdale were spoiled by a lawsuit arising from an automobile accident, and her husband's recurring bouts of religious melancholia.
Volume 4: 1929 to 1935 By 1929 Montgomery was 54 years old, living in Norval Ontario, and with world-wide renown as an author.  Her personal life was somewhat tumultuous, with controversies regarding her husband's parish, the stock market crash, and troubles with her sons as they reached adulthood.
Volume 5: 1935 to 1942 Living in Toronto, Montgomery for the first time has settled into a milieu of culture and friendship and neighbourliness.  But this volume reveals the turbulence of the times, the Great Depression, and a changing world. Family life with her husband and sons was full of troubles.  This last volume of her life story is threaded with angst, as well as deep insight, and her irrepressible humour.
List of Book Titles
*Books written by L.M. Montgomery in Leaskdale between 1911 and 1926